13-10-2014 09:50:00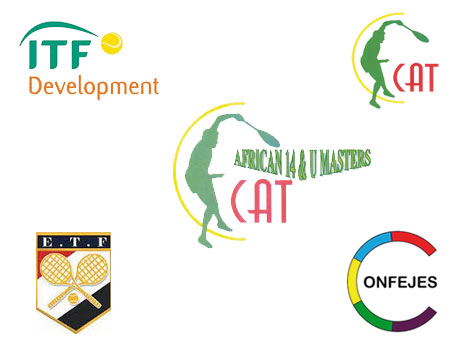 The 7th 14 and under African Masters had been organized by the Confederation of African Tennis (CAT) in conjunction with the Egyptian Tennis Federation (ETF) with the support of the CONFEJES and ITF Development Department on the Clay courts of the fantastic El Gezira Club in Cairo.

This 7th Masters gathered the 12 best boys and girls of the African continent who were accompanied by their coaches, representing 11 countries: South Africa (4), Benin (1), Botswana (1), Burundi (3), Egypt (5), Gabon (1), Mali (1), Morocco (5), Nigeria (1), Tanzania (1) and Tunisia (1).

The first 2 training camp days that gathered 24 players (12 girls and 12 boys) had been devoted to the Club CONFEJES program, including group training sessions to all participants under the supervision of Mr. Amine Ben Makhlouf, African Tennis Technical Director, of Mr. Christian Technical Advisor to the General Secretary of the CONFEJES and of all coaches.

Regarding the Masters competition, it had been done under the Round Robin format (2 Pools of 6 players allowing to each participant to play 5 matches after which Play Off pools will be composed to determine the final ranking of the 1st to 12th position.

Ms Issem Essaïs, CAT Administrator had been during the whole Masters with the players and the coaches and supervised this competition end to end.

Most of the matches had been very disputed and the final distinction came to Egyptian Dalila Said, in the girls and South African Philip Henning.It is finally necessary to mention that CAT will allow laureates of this Masters to take part in a series of tournaments in the USA at the end of the year 2014 and will be allocate travel grants to the 3 first ranking for boys as well as for girls in order to allow them to participate in ITF Junior tournaments of Grade 4 and 5 in 2015.

This 7th African Masters for youngsters had been followed from end to end by Mrs Israa El Sanhoury, President of the Egyptian Tennis Federation, represented by Mrs Marwa Abdel Rahman and Mr Mahmoud Senoussi who had been assisted by a staff of quality together with Mr Wale El Refai, The Referee contributed efficiently to the success of this event.

The closing ceremony had been marked by the presence of Mrs Israa El Sanhoury accompanied by many members of the Egyptian Tennis Federations and of El Gezira Sporting Club, Mr Christian Marty (CONFEJES), Messrs Hichem Riani, CAT General Manager, Amine Ben Makhlouf, African Tennis Technical Director.