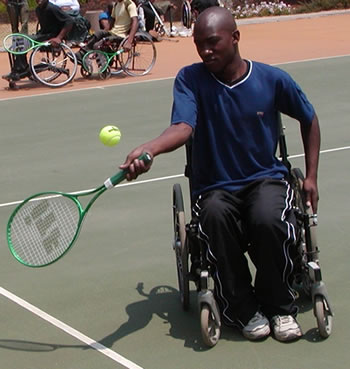 Wheelchair Tennis in Africa
Morocco join International Wheelchair Tennis Association
Morocco is the latest country to join the International Wheelchair Tennis Association reflecting the increased interest in the sport in Africa. Morocco has also recently been selected to be part of the Silver Fund programme.
Morocco has an active programme with approximately forty players. A national tournament was held in February. This follows on from an event held in July 2004, which was attended by an Iraqi player. Piet Hermanns (NED) will visit this weekend to lead a programme of activities to be held alongside the ATP Tour event in Casablanca.
History
Wheelchair tennis has now established a foothold in Africa. As early as 1991 wheelchair tennis was becoming a reality on the tiny Indian Ocean island of Mauritius. In 1993 two workshops took place in Algeria. In 1996 Chris Illingworth (GBR) conducted workshops in Nigeria and Cameroon.
ITF Wheelchair Tennis Manager Ellen De Lange visited South Africa in 1992 and in the same year South Africa sent a team to the World Team Cup in Belgium. Development continued in this part of the world when Randy Snow visited South Africa towards the end of 1996 to conduct clinics and visit rehabilitation centres in both Johannesburg and Cape Town. ITF Wheelchair Tennis Development Officer Marko Polic went back to Africa in 2000. The first wheelchair tennis clinic to be held in conjunction with an ITF level coaches workshop took place in Harare, in Zimbabwe where 28 coaches had their first taste of wheelchair tennis.
The Silver Fund
In 2003/4 South Africa was included in the ITF's Silver Fund project receiving extensive support for development including tennis wheelchairs, coach education material and tennis equipment. ITF expert John Noakes visited South Africa for several weeks and was supported by player ambassador Sonja Peters. The Cruyff Foundation supported the programme and Johan Cruyff himself visited the programme at the end of 2004.
The Paralympic Games
Through some funding from the Dutch Organisation for International Co-operation and Development two South African players were able to compete in the 2004 Athens Paralympic Games on wildcards issued by the ITF.
Current situation
Several African countries have wheelchair tennis programmes. In 2004 Frank Couraud ITF) visited the programme in Senegal and Geraint Richards (GBR) spoke at the ITF Regional Coaches Workshop in South Africa. Nigeria's programme has gone from strength to strength and there are now close to 100 players. Morocco has approximately 40 players and is producing tennis wheelchairs locally.
The ITF receive enquires from African National Associations and coaches on a regular basis.
For further information contact CAT or the ITF.
ITF contact:
Mark Bullock ITF Wheelchair Tennis Development Officer mark.bullock@itftennis.com
Links:
Website: http://www.itftennis.com/wheelchair
ITF Wheelchair Tennis Coaches Review: http://www.itfwheelchairtennis.com/asp/wheelchair/publications/coachesreview.as