The Federations of Burundi, Seychelles and Tanzania will be Class B Members of the ITF from the year 2021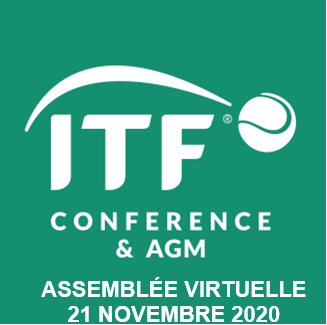 The International Tennis Federation (ITF) organised on Saturday 21st November 2020 its first Annual General Meeting (AGM) in the Virtual Format. This AGM was attended by nearly 250 delegates representing 132 National Federations. The President and the CEO of the CAT have been among the attendees.
Several decisions and resolutions were voted and approved by the AGM including:
Transfer of 3 African Members from Class C to Class B:The Assembly approved the transfer of 6 Class C Members to Class B, including 3 African Members: Burundi, Seychelles and Tanzania who will be from the year 2021 Class B Members to the ITF. The National Federation of each of these countries will have One (1) Voice from 2021. Thus, the number of African Class B countries will increase from 2021 from 29 to 32.
Increase to the maximum number of Vice-Presidents on the ITF Board:The Assembly approved an increase of the number of Vice-Presidents on the ITF Board of Directors from 3 to 4.
Gender Neutral Nomenclature in the ITF Constitution:The Assembly approved that any gender bias language in the ITF Constitution be removed and replaced with gender-neutral language.
Jurisdiction over e-tennis :
The Assembly approved broadening the scope of the ITF's jurisdiction in order to assert ITF jurisdiction over virtual (simulated) versions of traditional tennis, e.g. "e-tennis".
Other resolutions were approved at this AGM such as increasing the number of votes of the Portuguese and Ukrainian Tennis Federations from 3 to 5 votes. The Assembly has also approved unanimously nine ITF Awards for Services to the Game of Tennis. Among those who received the award is Slah Bramly from Tunisia who passed away on 30th September 2020
ITF President David Haggerty reported at the end of his speech that the next ITF General Meeting will be held in Madrid - Spain in November 2021 on the sidelines of the Davis Cup Finals.